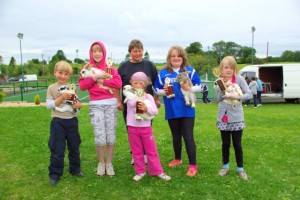 The County Sligo Agricultural Show was established in Riverstown in 1994, taking over from the County Show when it closed in Sligo town – Did you know that the Showgrounds got its name from the County Show, as it was held there for many years. The main organiser to get the Show up and running in Riverstown was the late Paddy Kenny who was supported by the local Creamery Committee.
The community of Riverstown is delighted to organise and hold the Sligo County Agricultural Show in our picturesque village each year. Come join us on the third Saturday in July, for a fun day out for all the family – young and old. It is a wonderful opportunity for Farmers to showcase their cattle, sheep, horses, ponies, donkeys, poultry, vegetables, baking, arts & crafts and family pets.
Make sure you put the 3rd Saturday in July in your diary every year, to join us in Riverstown to celebrate rural living.