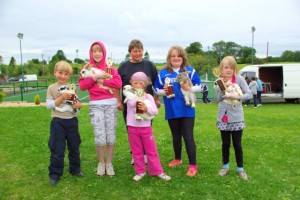 The Sligo County Agricultural Show has been held in Riverstown since 1994, following closure of the County Show which had until then been held annually in Sligo Town.  The late Paddy Kenny was the main person involved in ensuring the continuation of the County Show and with the help of the Riverstown Creamery Committee guaranteed its survival.
It has been held each year in Riverstown ever since, with the exception of 2001 when the outbreak of Foot & Mouth disease resulted in the cancellation of country shows nationwide.  As a precaution cattle were excluded from the Show for a few years following but fortunately were reintroduced in 2009.  There is now a selection of Cattle Sections including Simmental, Pedigree Charolais, Aberdeen Angus, Limousin, Shorthorn and Commercial Cattle.
The local voluntary Committee, and other volunteers on the day, all work hard to ensure everyone enjoys their day out at the Sligo County Agricultural Show on the third Saturday in July each year, so that's a date for the diary!