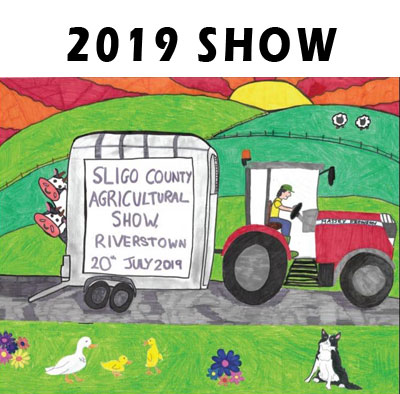 Special thanks to our main show sponsor, Aurivo

Riverstown Hosts County Agricultural Show
The 2019 Sligo County Agricultural Show takes place on Saturday 20th July in Riverstown Community Park. This annual event, celebrating rural living and our agricultural heritage, has been held in Riverstown since 1994!
The voluntary team of Sligo County Agricultural Show have been busy bees working towards ensuring our 25th anniversary celebration is a very special one. The County Show had previously been held in Sligo Town for over 90 years and the community of Riverstown have continued to grow the County Show over the last 25 years.
Animal Classes include Horse, Pony, Sheep, Cattle, Poultry, Dog and Cat. Extra new classes have been added this year in the Dog Section and the Donkey Section has returned due to popular demand. Plans are already in place to introduce a new Goat Class into the 2020 Show. Our Show is a great opportunity for farmers and families from the region to showcase their animals, homegrown vegetables, home baking and craft and it's a great day out for both competitors and visitors alike.
For the second year running the Connacht Gold Kitchen will host a celebrity Chef passionate about food sharing easy to remember cooking tips, using Connacht Gold ingredients. We are delighted that Chef Joe Shannon, of Virgin Media Ireland AM fame, will be demonstrating his Cookery skills throughout the afternoon, and we are very grateful to Aurivo for their kind sponsorship of our Show. This marquee will complement the Home Industries and Home Crafts Sections of the Show, and a brand new 'Afternoon Tea Tray for Two', which Joe Shannon will judge, is sure to delight our visitors.
Other sections include Bonny Baby, Little Miss Riverstown, Little Master Riverstown, Glamorous Granny, Greatest Grandad, Best Dressed Lady and Dashing Dude. Children can also participate in all the Children's Art, Photography and Baking sections, as well as our new LEGO section launched this year. Additionally eight local schools got involved in the new Show Poster Competition, and the amazing artistic endeavours of local children will be on display on the day. A hearty well done to Taunagh National School in Riverstown Village who won this competition, kindly sponsored by Jacko.
As well as free entry to the Show, children can enjoy free faceprinting and each child will receive a ticket to enjoy a free pony ride, thanks to Lough Bo Equestrian Centre – please note these free pony rides are from 2pm. Free rope making sessions will also take place for children and adults alike, and we have a Mobile Pet Farm joining us on the day so the children can get up close and cuddly with lots of animals.
This year will see a firm focus on Farm Safety, with the IFA will be delivering demonstrations and talking to visitors throughout the day. Pat's Country Roadshow will entertain us on the day and we are delighted to announce MEP Maria Walsh will officially open our 2019 Show, at approximately 130pm.
Watch our Sheepdog herding Ducks demonstration, and Sheep Shearing in action too. If you fancy yourself as the Sligo County Champion Turf Footer then come join in our competition, new to the Show this year, between 2-3pm.
Last year the Angola goats were a huge hit, the only ones in Ireland, and they are joining us again this year! We are also delighted to welcome the Sligo Leitrim Beekeepers Association to help us all learn more about the importance of bees in Ireland. Join us and all our glorious farm animals and pets, on Saturday 20th July for a heartwarming day out for all the family. With the tastiest of food, the finest of coffee and lots of stalls to browse, you can even get your picture taken with the Replica Sam Maguire Cup or have your fortune told, Riverstown Community Park is the place to be on Saturday 20th July.
Our Show is always held on the third Saturday in July each year – a definite date for the diary. We look forward to welcoming you all to the picturesque village of Riverstown. Thank you to all our volunteers who help us on the day, to businesses from near and far who kindly sponsor us and to all the visitors who join us on the day and make it all worthwhile. Go raibh mile maith agaibh.
From the voluntary Show Committee:-
Michael Harte (Chairperson), Imelda Ryan-Jones (Public Relations Officer), Linda Noone (Secretary), Raymond Barlow (Treasurer), Padraig Jinks, Marian Judge, J.P. Higgins, John Lyons, Geraldine Coleman, Tom Bagnal, Ivan Gardiner, Mary Conlon, Fiona Dunleavy, Liam Kelly, Maura O'Connor and Gearoid O'Connor.